Financial Tsunami's Are Coming But No One Seems To Care, Why?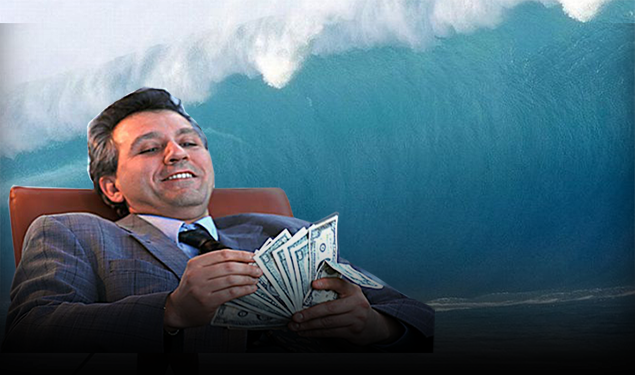 You don't need to be a conspiracy theorist to witness the obvious. There are two financial tsunami's coming our way, but the government and media appear to be oblivious to each. First of all, Fed Chairwoman Yellen recently reported that "banks are safer," "there is reason to hope," and that, "efforts to enhance the resolvability of systemic firms have promoted market discipline and reduced the problem of too-big-to-fail." Reality dictates that nothing could be further from the truth. The fact of the matter is that bank usage of dangerous credit swap derivatives has reached epidemic proportions that are logarithmically greater than total bank exposure that contributed to the need for the 2008 banking bail-out.
The reason that banks and the government are not concerned about the danger today is because fine tuning of the "bail-in" process has taken them both off the hook. Banks don't have to worry about rolling the dice with derivatives, because the new and improved bail-in process streamlines their ability to cover losses, by utilizing depositor funds for their own purposes, without requesting depositor permission. And due to the same process, the government no longer has to request taxpayer assistance, because any necessary money for debt coverage by the bank is simply commandeered from depositors who were unlucky (and stupid) enough to deposit funds in a bank that takes their money and essentially gives them nothing more than an IOU, because in fact, bank depositors are nothing more than "unsecured creditors" conveniently located at the bottom of the financial food chain.
The second financial tsunami is the debt ceiling breach that could occur before the end of September. Its reality is plain to see, but the government and media hardly seem to be concerned about a potential government shutdown, which regularly in the past has wreaked financial havoc. A rather obvious answer for the lack of concern can be traced back to Mnuchin's Fort Knox accounting visit, which no doubt cleared the way for implementation of a government ploy not utilized since the Eisenhower Administration. Now that it's been counted, the U.S. gold stockpile listed on the Treasury books at a value of $42.22 per troy ounce can now be revalued on the books to today's current spot price of $1,315 and immediately/magically credit $363.5 billion to the Treasury books without increasing the national debt or requiring any debt ceiling discussion. Ahhhhh, what a relief. NOT!
The Fed makes every effort to discount, ignore, and avoid attention to gold, meanwhile they, like other central banks have been in a buying frenzy. Letting this information out and addressing ramifications up front could be messy, disconcerting, and time consuming. Rather than create what could be a growing and protracted panic, perhaps the governments thinking is that it's better to let the house of cards collapse of its own accord and then impose Marshall Law, so they no longer have to answer questions, or provide acceptable reasoning, simply rule with an iron fist! The simple fact of the matter is that these concerns should be a consideration for every American investor and the information should be seen in all media and public forums, rather than sequestered blogs. All of these reasons make physical precious metals ownership that much more of a requirement than a consideration. Today's prices and availability are just an incredible bonus while fulfilling what is quickly becoming a financial requirement.
Please follow and like us:
You may also like...