The Hawk That Cooed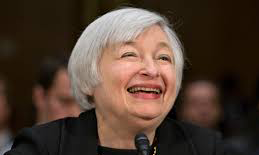 In spite of continuing interest rate rhetoric, as we had prognosticated, Fed Chairman Yellen's meeting with the Federal Open Market Committee (FOMC) yielded nothing more than a confirmation that the U.S. economy, inflation and Dollar remain sluggish, which prevents any further interest rate increases at this time. The floundering Dollar also continues to provide the traction necessary for increasing oil prices. The Fed quietly noted that household spending was only moderate, which has previously been touted as one of the most important drivers and indicators of economic growth. And in a rather lame attempt to appear less dovish, the Fed stressed that the labor market continues to improve, in spite of a slowing economy and again noted weaknesses in the global economy, without strongly deflecting attention to global concerns as the source of U.S. market doldrums, which has become their typical protocol.
Actions generated by tomorrow's Bank of Japan (BoJ)  monetary policy meeting probably has a better chance of affecting the U.S. market, than today's milk toast FOMC statement. The BoJ is continuing to struggle with slowing economic growth, deflation and an increasing Yen value on the world foreign exchange market. Unlike its American counterparts, Chinese policymakers have much greater room to maneuver and in spite of a double digit percentage drop in its market value this year, seem to be having greater success pumping money into stock markets in an attempt to shore up losses. A great deal is being made about "panic selling" in the China market, but like we said last week, behind all the smoke and mirrors is a U.S. economy and currency approaching the brink of collapse at breakneck speed.
Deutsche Bank's recent confession to gold and silver spot price manipulation caused even the most aggressive hedge funds to stock up on the precious metals. Commerzbank reported that gold's speculative length remains at its highest level since 2012 and silver's recently hit a three-year high. Silver continues to reduce the insanely disproportionate gold-to-silver ratio and though profit-taking typically follows such aggressive growth, ongoing demand and direction of the precious metals is practically undeniable.
If American politicians continue the current course of ignorance, the economy and our currency will go off the tracks and at that point, it's too late. Therefore, every American family should have a supply of physical gold and silver for asset protection and payment, to be used in the post-crash world that we will all live, if our government doesn't soon acknowledge, address and attempt to adjust the focus of our current economic course. Precious metals are currently available and best of all, at bargain prices. It's the best insurance that can be bought!
You may also like...