Will Today's Election Change The Course of the U.S.S. Economic Titanic?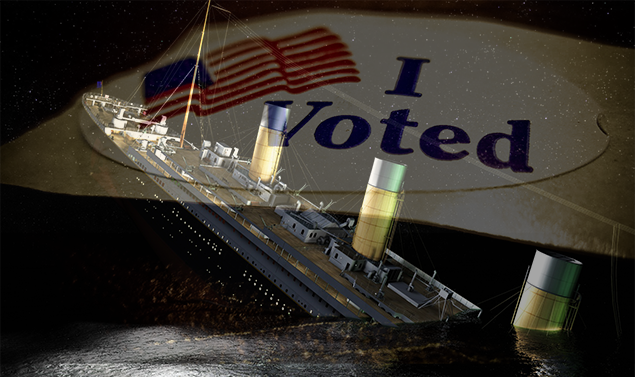 Regardless of who wins today's election, the facts of the matter remain: Fed efforts with Quantitative Easing programs have been abject failures, our national debt is surging to new highs unabated, and neither of the potential Presidential candidates have presented policy changes that require a balanced budget before the end of their first term, make the Fed, banks or public corporations truly accountable, or demand that the legislative branch create laws that prevent the abuse of dangerous investment activities, such as derivatives, by all financial organizations deemed "too big to fail."
There's no doubt that the  U.S. government has always been limited to two gears, slow and reverse, but permitting the Fed to continue throwing darts at economic targets with such dismal results for so long is simply unacceptable. After piling constant debt on the American taxpayer, billing them for "too big to fail" bailouts, and providing no legislation to prevent it from happening again, even worse than before, is too absurd for words. The fact that any CEO can drive a company up onto the rocks and then retire with a golden parachute is outright ludicrous. The recent Wells Fargo fiasco is just another indication that nothing has or is going to be done to curb the abuse. Killing investors financially should be as illegal, as using a gun in a crime.
The Fed owes its very existence to the American taxpayer's desire for protection from financial ruin and economic panic. Yet, its inability to create a growing GDP continues to provide fuel for exactly the opposite. It only took 7 quarters for the U.S. GDP to pass its pre-recession high, following the Great Recession of 1981-1982. But it took more than twice as long to accomplish the same, following the 2008 collapse. Failure is not an option, but apparently the brain trusts at the Fed didn't get the memo, because the government didn't bother to send it. All activity of the current and incoming government indicates they're content to wait for this economic kidney stone to pass. Unfortunately, they haven't bothered to notice that it's the size of a bowling ball and without immediate surgery the patient will most probably die.
Regardless of who is elected, waiting for the President-elect, Fed, or any other entity; to acknowledge the problems, create an emergency procedure, and affect the necessary surgery, could cause additional damage, if not death. Unlike the Fed, if the International Monetary Fund (IMF) holds true to its charter, they will surely implement a "One World" currency, before the death of the dollar. That IMF action will decimate the dollar and all paper-based investments tied to it. There has never been a greater need for investors to protect their assets, with the time-tested, universal value of physical gold, silver and other precious metals.
You may also like...