Markets Concerned As Healthcare Replacement Discontent Delays Tax Reform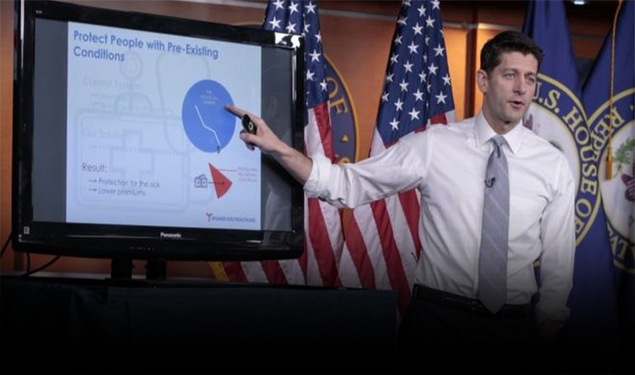 Gold prices had been beaten down in anticipation of the Fed's March interest rate increase, but the dovish tone that accompanied its implementation might be another indication that the bull stock market has run its course. The market typically shows advancement through April and during the first hundred days of a new administration, but this long-in-the-tooth bull market may be wrapping early. The confusion surrounding the new administration, most assuredly isn't helping to remove investment uncertainty and Trump's highly anticipated healthcare "replacement" has apparently fallen more than a little short, even among Republicans.
Healthcare is a complicated and negotiated program, but due to the nature of its long-term assembly and rough-tuning, getting the process started early was inevitable. Some might believe that scoring quick WINS with infrastructure-spending programs might have been a better foundation for the new administration, but that's just not how politics and the country operate. As the volatility index remains near historic lows, many investors are feeling a sense of limited downside risk, but nothing could be further from the truth. It could very potentially be the calm before the storm.
Pressure for a dramatic global realignment continues to build. The DJIA gave up and S&P 500 slight losses today, while crude oil and European stocks closed lower on growing fears of a global rise in protectionism, underlined by this weekend's G20 gathering. Members at the meeting dropped a long-standing pledge to pursue free and open trade, based on a recommendation, by U.S. Secretary of State Mnuchin, falling in line with the Brexit mentality, as well as the new administration's "America First" attitude. March 29 will be the day the U.K. formally begins removing itself from the European Union, by triggering Article 50 of the Lisbon Treaty.
Additionally, Deutsche Bank shares were hammered today due to the growing list of global uncertainty issues, causing American banks to follow suit. On the local level, concern about delays in the implementation of promised tax cuts, falling oil prices due to concerns of growing U.S. output, and a six-week low for the dollar combined to provide support to the slowing of the market bull rush. Due to the extended bull run, highly over-valued stocks, and growing global protectionism (led by the U.S.), it's easy to see why the typically recommended 5%-15% precious metal portfolio protection plan may no longer be sufficient. At any rate, with markets near their peak and potential danger lurking around the corner, how and when could there be a better opportunity to sell high and buy low? Don't be left without a chair when the music stops!
You may also like...