First Overseas Trip May Provide Brief Relief From Trump's Pending Domestic Cavity Search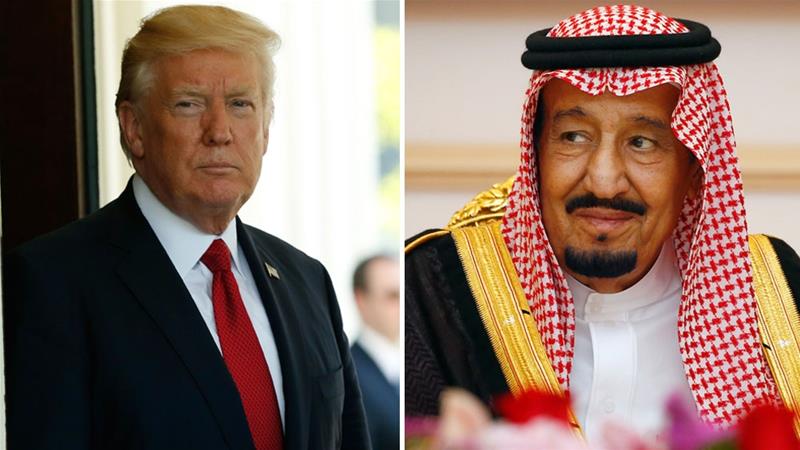 With political pressure mounting on the domestic front, President Trump began an extended overseas trip, meeting first with the King of Saudi Arabia, Salman bin Abdulaziz Al Saud. After an elaborate red carpet welcome and receiving the country's highest civilian award, President Trump quickly inked a deal to sell more than $147 billion worth of military hardware including; combat ships, precision-guided munitions, and missile defense systems, as well as sophisticated communications, radar and cybersecurity technologies. The Obama Administration curtailed such negotiations in late 2015 following a Saudi-led bombing attack that mistakenly killed 140 and wounded 600 at a funeral in Yemen. An investigation showed the attack had been planned based on "wrong information."
On Sunday, the next order of business for President Trump was to attend opening ceremonies at the Global Center for Combating Extremist Ideology with Saudi Arabia's Salman and Egypt's al-Sissi. Today the President met with Israel's Prime Minister, Benjamin Netanyahu, visited the Western Wall and the Church of the Holy Sepulcher. After the Vatican, the pomp and circumstance welcomes will have worn off and the rest of the trip will be with politicians of advanced industrialized democracies, which is not exactly a sweet spot for the President. As a matter of fact, many officials at NATO and the G-7 summits could become downright belligerent.
At a Sunday night meeting, word got out to Netanyahu that a number of cabinet officials were "not going to be available" to meet Trump's plane. Immediately after the meeting, the Prime Minister's Bureau issued an instruction that all government ministers must participate in the airport reception. During the visit with Netanyahu, President Trump bagged on Obama's deal with Iran and promised that Iran will never have a nuclear weapon. Headway on a potential Mideast agreement would do wonders to detract from the President's domestic woes, but few, besides the President, are overly confident about any such rapid progress.
Meanwhile, global markets are taking the trip with a grain of salt. Metals are up, the dollar is down and oil is increasing in advance of the upcoming OPEC meeting. When the President returns to the U.S. he's sure to be greeted by a litany of domestic issues, as well as developments with a growing list of ex-administration officials, not the least of which is past National Security Advisor, Lieutenant General Michael Flynn. All indications are that precious metals will continue to benefit from the ongoing confusion and uncertainty generated by the Trump administration's inability to get on a consistent and productive domestic track.
You may also like...