Posturing Does Not a Trade War Make!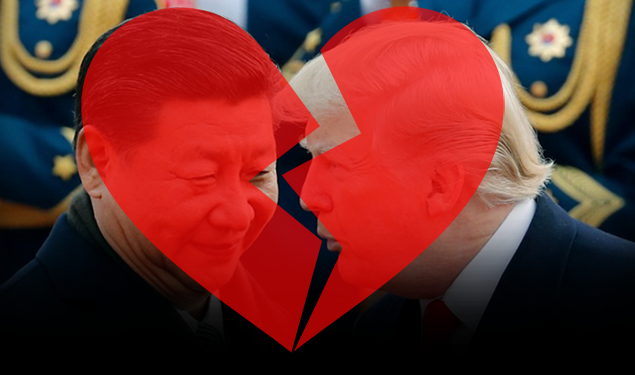 If our long-in-the-tooth stock market wasn't already getting pounded by a variety of domestic pressures, it might have a better chance of standing up to the new pressure being generated by concerns of an escalating trade war between the two biggest global economies, China and the United States. As usual, the media is making a mountain out of a mole hill. Instead of focusing on the urgent reality and potential devastation that could be caused by the U.S. dollar being reduced or removed as the premier global reserve currency, due to recent activities on the part of China and Russia, the media has chosen to ignore that and instead come unglued over a potential "trade war."
The current media frenzy has become obsessed with what amounts to nothing more than preliminary negotiation posturing, on the part of both President Trump and President Jinping. An announcement, in the widely read Global Times newspaper, mirrored the irrational frenzy in American media, stating that if the United States didn't think China would retaliate, or would settle for only symbolic counter-measures, then it could "say goodbye to that delusion." The article went on to say that, "Even though China and the U.S. have not publicly said they are in a trade war, the sparks of such a power war have already started to fly."
This scenario has all the makings for economic excitement, but it is entirely misplaced. The players are simply maneuvering for positions, so as to be able hold an advantage when trade talks actually begin in earnest. The Chinese commerce ministry issued a statement that the U.S. had damaged China's interest and "seriously violated" principles of non-discrimination found in the World Trade Organization rule book. Meanwhile, the White House responded by saying that they are preparing to impose billions of dollars in tariff fees on Chinese products, due to "violations of intellectual property rights" uncovered by an investigation generated by Section 301 of the Trade Act of 1974, which began in the middle of 2017.
The media-generated "trade war" consternation has made the market more volatile than ever and provides an alternative focal point which allows the media to continue side-stepping the only truly "news-worthy" critical economic development that is now in position to destroy retirement accounts, financial portfolios, and even the American way of life as we know it, at literally a moment's notice. Nothing that created and/or supported the petrodollar is still in place. The dollar's status on the world stage has been more than decimated and no one in the mainstream media is sounding an alarm. Logic dictates that the typical allocations for portfolio protection with physical precious metals may not provide a great enough level of protection from the potential domino-effect devastation of a currency collapse, market collapse, and banking collapse. Call American Bullion for immediate assistance now, at (800) 653-GOLD (4653).
You may also like...