Bitcoin is Back!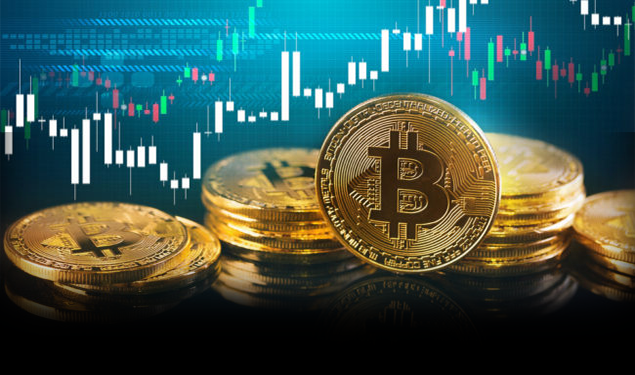 Bitcoin saw a sharp weekend sell off, however yesterday BlackRock, the world's largest exchange-trade fund (ETF), whose executives managed just under $6.3 trillion in 2017, announced the formation of a research group, so as to assess the possibility of involvement in Bitcoin futures. This is an important development, because BlackRock had previously been highly critical of Bitcoin and cryptocurrencies in general. A similar turnabout was previously utilized by Jamie Dimon, chairman and CEO of JP Morgan Chase. When this decision was made public by the media, the investment community responded with a resounding rally, driving Bitcoin to a two-month high, possibly giving it the legs it's been looking for to fuel another serious rally.
Right out of the gate this morning Bitcoin has crashed through the $8,000 barrier. Bitcoin bulls now have excellent upside momentum and a firm near-term chart advantage to suggest an even greater near-term upside. Having made up $1,400 in a month, Bitcoin finds itself within range of early May levels if it can duplicate the feat over the next month too. Currently through the $8,200 barrier, all indications continue to improve for the leading cryptocurrency.
Self directed IRA's allow investors to utilize retirement savings in order to participate in a Bitcoin investment. Self directed IRA's, which have been around since 1974, permit people to hold nontraditional assets like precious metals, real estate, and virtual currencies within a retirement account. There's been a great deal of discussion about the wild valuation swings of cryptocurrencies, but therein lies the beauty of a long term investment tool, like a self directed IRA. Now that cryptocurrencies have endured and survived original scrutiny, many who were concerned about their ability to do so may have a short window of opportunity at today's lower price levels to take advantage of their long-term growth potential.
American Bullion was a pioneer of the Gold IRA and an early participant of the Crypto IRA. Their years of experience make opening a self directed IRA simple, quick and seamless. The stock market is near an all-time high and Business 101 instructs us to buy low and sell high. With Bitcoin at less than half its all-time high, gold more than a third off its all-time high, and silver near two-thirds below its all-time high, there probably won't be a better time to cash in on a portion of stock market gains, in order to capitalize on the growth potential of these undervalued instruments, as well as the safety and security of physical precious metals at absurdly low prices, in the face of a long-in-the-tooth bull stock market. Call American Bullion at (800) 653-4653, today!
You may also like...