Yet Another Analyst Predicts $2,000 Gold By End of Year!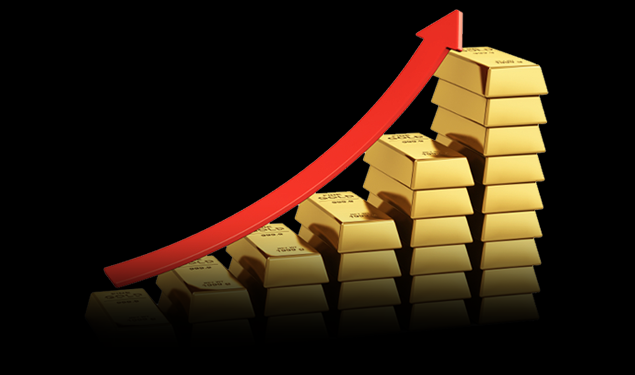 David Roche, President and Global Strategist at London-based Independent Strategy is the latest to join the growing list of analysts suggesting that gold will achieve $2,000 per ounce, by the end of 2019. Spot gold prices hit $1,422.85 on the 25th of last month, which was its highest value in more than six years. An indecisive Fed and heightened geo-political concerns have the stock market on edge, yet again. Struggling to achieve a last-minute melt-up, investors can't help but realize that the market is running on empty and the only available gas remaining in the Fed's tank is a couple of one-point interest rate reductions, that could help the market diesel for a little longer. Regardless however, there can be no doubt that when it's gone, it's all gone and there is nothing left for the Fed to manipulate. President Trump wasted no time letting the Fed know of his dissatisfaction, with their interest rate inaction.
Hostile trade discussions, increasing Mid-East violence, and an apparently catatonic Fed have combined to reverse stock market momentum. Roche went on to tell CNBC's Squawk Box that, "I actually believe financial markets are now poised to crumble like a sand pile." And that, "I think trade conflict with the United States is a much far, wider-reaching, global conflict, which will undermine growth expectations in equity markets." In spite of the Fed's reversal on an interest rate cut, the stock market found some comfort in Friday's stronger than anticipated non-farm payroll increase. Nevertheless, the Congressional Budget Office crushed any positive hopes when they released a report indicating that a $15 minimum wage will boost pay for 17 million, but will cost the job of another 1.3 million employees.
Global trade issues are obviously adding to the general malaise now successfully taking root within the global community. The recession and economic downturn predicted by many before the end of last year is beginning to fill the entire stock market field of vision. The domestic economic front took another hit today, when St. Louis Fed economist William Emmons reported, that declining home sales are "consistent with the possibility of a late 2019 or early 2020 recession." His analysis overlays home sales, over 12 and 36 month periods, to look at trends that have held up during the previous three recessions. He suggested that housing be added to a line of troubling signs pointing to a coming economic downturn.
The economic landscape is littered with pitfalls and by most all accounts the downturn will require an even longer span of time than those previous. Protect your assets, retirement, and legacy with physical precious metals. Call the experts at American Bullion for professional assistance at (800) 653-GOLD (4653). There will be losses, as with any such economic downturn, but American Bullion can help you find a financial "sweet spot." Don't get lulled into a comfort zone, so you don't see what's plainly coming and don't get caught without a chair when the music stops. It's going to stop! Call American Bullion, NOW!
You may also like...