It's Time To Look Behind The Curtain!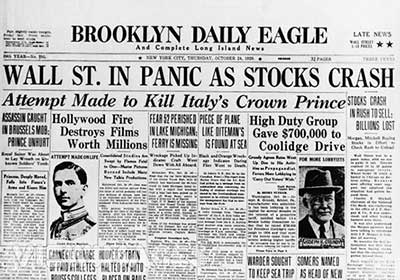 I'm breaking my typical presentation protocol, because this is too important to abbreviate! There's a lot of talk nowadays about division, in the United States. Look around, there's a resurgence of neo-Nazi groups, a growing membership in Black Lives Matter, and mass murders occurring on at least a weekly basis. Many attribute this to a rise in racism, or sexism, or fill-in-the-blank-ism, which is just as appropriate, because all of those things are nothing but symptoms of the REAL problem that somehow the spin doctors have successfully sequestered. I'm writing this article now, because in the news yesterday, both President Trump and Past-President Obama were both trying to take credit for today's robust economy.
First of all, let me assure you that the economy has been on a tear for many years. Jimmy Carter and Ronald Reagan are just as responsible for today's economy, as the aforementioned. Business owners, CEO's, and other members of the 1% have been and continue to do extremely well financially, but the middle class, the solid backbone that made America great, has all but evaporated. I live in Los Angeles. When I drive down the road, I typically find myself between a Suburban (half the size of St. Louis) and a Tesla. But even that is a facade, because we're being forced to buy into the "booming recovery" line. So, I'm going to share with you a tiny dose of reality, but before I do, here's a quote from the Economic Policy Institute (EPI). "From 1973 to 2016, net productivity rose 73.7 percent, while the hourly pay essentially stagnated—increasing only 12.5 percent over 43 years… This means although Americans are working more productively than ever before, the fruits of their labors have primarily accrued to those at the top and to corporate profits, especially in recent years."
Put into its simplest terms, the "division" people are feeling isn't one of, race, or sex or anything else. The division they are feeling is caused by nothing but MONEY. It's a division between those who have it and those who don't. Take a good look at this chart, based on research from the Economic Policy Institute:

It took a couple of years to take effect, but the divergence between productivity and income visibly began, shortly after Nixon took us off the gold standard and for good reason. In spite of the fact that our country has become exponentially "richer," the fact remains that the income disparity continues to widen every year. Real wages have declined for a majority of Americans, despite huge gains in productivity. The fact of the matter is that paper money printed by the Fed out of thin air does not transmit gains in productivity, like a non-fiat currency would (or the dollar if it had remained backed by gold). The Fed increases the money supply, in response to demands from powerful groups, especially banks. The same banks the middle class bailed out in 2008. The same banks that charged 28% interest on credit cards when the Fed rate was 20% and were still charging 28% when the Fed rate dropped to 2%! As a result of giving banks the keys to the car (and a case of beer), the cost of necessary daily items consistently increases, in spite of the fact that wages by no means keep pace. For the average middle class worker, there's only one way to keep up with the Joneses – CREDIT!!!
America was seen as a land of opportunity, because it was! But the foundation of the American middle class was a long history of consistently rising wages and this is no longer happening. Despite the "boom" in the U.S. economy, average Americans are worse off than they were decades ago, as displayed in this chart, also from the Economic Policy Institute:

It's plain to see that low income earners are making substantially less than they did and that even though middle wage earners are making more, it boils down to an annual increase of 0.00172%. This provides additional stress and growing desperation. So in order to keep up, Americans borrow. Americans currently have more than $1 trillion in credit card debt, more than $1 trillion in auto loan debt, and more than $1.5 trillion in dubious college loan debt. It's a stressful way of life. So is it any wonder violence is becoming the norm instead of the exception. Are you surprised by the fact that the number of deaths caused by drugs and poisoning for the bottom 60% of Americans has doubled since 2000? Or that suicide rates have doubled for the same group over the same period of time?
It's important to realize that 10% of Americans own 75% of the nation's wealth, which is a level not seen since the 1930's. Every American is entitled to pursue the "American Dream." But every American who is capable and willing is also entitled to a decent wage, which allows them to provide food, shelter and security for their families. And those who can't deserve the human rights guaranteed to all. The problem is not that such a small number of Americans have done so well, rather it is how they've done well. Because the fact of the matter is that the tremendous gains in wealth for the few have come at the direct expense of the working class. This is what's generating the anger and ism's rearing its ugly head in today's American society.
At the turn of the 20th century, American labor shared economic gains with business owners. Henry Ford's assembly line was a great idea and his workers made it a functional reality. That reality made automobiles affordable and in demand, which in turn made Ford and his employees wealthy. One day in 1914, Ford doubled minimum pay salaries, literally overnight! Such gains in productivity, especially the tremendous improvements in technology, should have made our currency much stronger, but instead has dwindled since we were removed from the gold standard: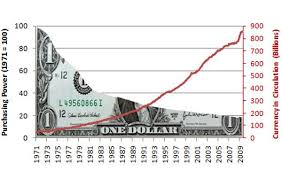 Just to keep up with the Joneses, most Americans have resorted to borrow at levels unprecedented in our history. The debt load for the working poor has nearly quadrupled in the past twenty years as a percentage of their income and realistically can never be repaid. It's a system that keeps the average worker in the poverty range and practically guarantees that the powerful and wealthy stay that way. In some states, nearly 10% of working age adults are receiving disability payments. We currently have the highest-ever percentage of people on food stamps, a full double the historical rate. U.S. consumers now have the highest total of debt ever, at $13 trillion and 73% of American's die today with an average debt of $60,000.
This system and the ignorance applied to it is causing tens of millions of Americans to become desperate. The media reports on the symptoms daily; political unrest, immigration reform, police brutality, fill-in-the-blank… Meanwhile, today's stock market is an absurd bubble, propped up purely by late-coming foreigners desperate to invest in the American Dream. The dollar's position as the world's premier global reserve currency is realistically nothing more than a vague facsimile and when the curtain is pulled back, the dollar will collapse like the house of cards it is. It's not even a question of if, but only when and the trigger that causes it will be completely immaterial and nothing more than an excuse.
The next economic collapse, unlike 2008, will be deeper, faster and require a longer recovery period. But the casualty count will be far greater than 2008 and the civil unrest will develop on a far greater scale. We need to be building bridges, not walls. We need to be nourishing the middle class, not starving them. Banks need to be institutions designed to support and empower the middle class, not to rape and pillage at will. Similarly, the Federal Reserve needs to be reigned in also. The middle class needs to be rewarded for gains in productivity, not just billed or taxed for it. The Fed and their political minions need to find a way to empower the middle class, not just tolerate it, because with wages no longer connected to gains in productivity, the desperation of the middle class will continue to grow and there will be nothing the average American can do to stay ahead of the Fed's induced inflation.
As these symptoms become more apparent, there will be a louder call from a growing number of people for some type of "American Jubilee," a Jewish custom, found in the Old Testaments Book of Leviticus, said to have occurred every 50 years. It was a time for total forgiveness of debt, returning of lands, and freeing of slaves. More than half a dozen Jubilee-style laws have already been proposed, by legislative members, such as Senator Bill Nelson and Representative Kathy Castor. Whatever the plan, it would call for a financial realignment, which is coming whether we plan for it or not. Another real estate crash could generate the cries, or a stock market crash, or again, fill in the blank.
The best plan of action for every middle class American is to acquire and hold as much physical precious metals as quickly as possible and today's lower prices make it that much easier. It astounds me that there are so many middle class people dead set on riding this bull market to the end, trying desperately to squeeze out another ten percent from a stock market that's given its all and then some, when in reality, the potential for a 20% – 50% loss is greater than any potential gains. They don't see precious metals as a solution, because they've been brainwashed by the powers that be to believe that real estate, the stock market, and the dollar are the means to wealth, but all are directly tied and convertible to paper assets that will have little to no value in the brave new world. Precious metals have retained and grown in value through every cataclysmic world event and will continue to do so. Central banks have been some of the biggest buyers of precious metals for years and all the while the media is spouting off about insignificant he said she said stories about this government official or that. If the government wanted to fix this problem, that's the information you'd be receiving, but then again, demand would increase immediately and the price of precious metals would go up quickly, which is inevitably going to happen anyway. So you can choose to take advantage now and watch it happen or choose to be a victim and watch it happen. Don't wait for the government to tell you to do the right thing, or it will be too little too late. Previous precious metal highs will be blown away when the domino collapse takes root. Choose to benefit from the event and not be a victim of it. Call the precious metal experts at American Bullion NOW! (800) 653-GOLD (4653).
You may also like...