China's Gold Buying Spree Continues!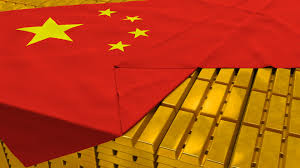 Last week and in typically oblivious fashion, the stock market found a way to get excited about the first round of China trade discussions, whereby the two countries began inching toward an agreement. The DJIA, S&P, and Nasdaq all rose, continuing the best three-month start to a year in more than two decades. When things started going south earlier, the Fed simply announced that they will suspend further interest rate increases. These types of well-timed announcements have kept volatility very low during this period. But of course real news, like the World Trade Organization's Director-General Roberto Ozevedo announcing that based on current numbers, last September's prediction that global trade would grow by 3.7% in 2019, needs to be adjusted and reduced to just 2.6% provided no market effect whatsoever.
China is doing everything it can to reduce its dollar-based holdings, which for some inexplicable reason is of little to no interest to America's mainstream media. China trade hopes have been a market driver since the middle of last year. When does the fake news stop mattering, so that reality is finally able to settle in? Why aren't absurd stock valuations of interest? U.S. corporate revenues are tanking, but no one is talking about it, or seems to care. Treasury yields have already inverted once, the market is insanely oversold, and we added $1 trillion to the national debt in just over ten months, for the first time in our history. This is critical information that deserves more than a footnote. It deserves action on the part of investors who don't want to duplicate the financial carnage of 2008.
Meanwhile, China who is the world's greatest producer and consumer of gold has expanded its reserves for the fourth consecutive month. China added 9.95 tons in December, 11.8 tons in January, 9.95 tons in February, and another 11.2 tons in March. This means that China has now nearly doubled its gold reserves, since the middle of 2015. If it continues through the year adding gold to its reserves at the present rate, it could easily end the year as the world's 2nd busiest gold buyer, behind only Russia, which added 274 tons to its reserves last year and shows no signs of slowing this year. However, as I've stated, mainstream media seems perfectly content to ignore these very clear signs.
China and Russia have a very clear understanding of gold's strong support at the $1,275 level and have maintained a feeding frenzy as the metal has languished in a fairly narrow channel centered near the $1,300 level. Individual investors would do well to investigate and possibly emulate the financial preparation activities of two of the world's most powerful countries. Physical precious metal ownership will most probably be a common and important part of the strategy utilized by survivors of the next economic tumble. Call the experts at American Bullion, in order to capitalize on high stock market valuations and still low gold and silver prices. Waiting for the bandwagon can be very expensive. Don't wait another minute to call (800) 653-GOLD (4653) to protect your assets and your legacy. Call now!
You may also like...