"GAME OVER"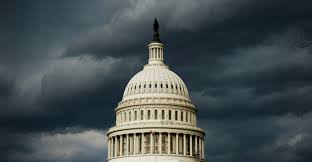 Corporate and Governmental Gaming Is Rapidly Approaching "GAME OVER"!
So much for what might happen, this one's in the history books. After 86 years holding a Triple-A credit rating, Exxon has joined the list of credit demoted corporations. How is this possible? Moreover, how is it possible that only two American Icons, Microsoft and Johnson & Johnson, still hold that once common rating? Exxon survived the Great Depression, World War II, two energy crisis during the 1970's, a 78% crash in oil prices in 2008, and dozens of other less major events. So, why now? The answer is simple and it's not an isolated event. As a matter of fact, it's become an epidemic. Starting with our own government, it's become common practice to go into debt in order to fund capital spending. Over the past 10 years, The U. S. Debt has doubled. Meanwhile, Exxon spent $211 billion buying back its own stock, and $88 billion in cash dividends. Over the same period, it made $242 billion. The difference is $57 billion in added debt, almost $6 billion per year on average. At least Exxon is attempting to gut it out. Many other public corporations are playing a shell game, buying stock back and then releasing again after reporting periods, so the books can look good for the picture. But it's ultimately going to catch up. Our soon to be $20 trillion National Debt didn't happen overnight, but it's currently compounding at a frenetic and frightening rate. Time will not heal.
NEWS FLASH! Debt doesn't just go away. And it's not indefinitely manageable. Exxon has to face the added reality that technological advances in solar and other environmentally friendly sources are making serious headway and will be increasingly reducing market share for the oil giants. Due to a global glut in cheap credit, courtesy of the Fed and other central banks, the global credit bubble has achieved proportions only fantasized by economically slanted science fiction authors. The uncontrolled abuse of derivatives, greatly responsible for the economic crash of 2008, is now reaching even greater levels of reckless abandon. And the banks which were "too big to fail" then, are 25% bigger now. The potential level of devastation to be generated by the next collapse will take the form of an economic black hole, which not even Kryptonite can deter. The only true protection from the coming collapse is the planet's only true form of money, gold and silver.
Please follow and like us:
You may also like...